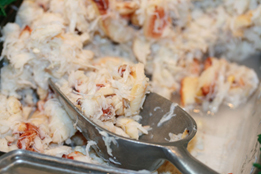 We won Sliver in Blas na hÉireann Irish Food awards in 2016 with this product.
It is Ideal for use in a Starter or a salad.
Crab Meat Salad
Ingredients
250gr Window to the Sea Crab Meat
40gr Mayonnaise
2 teaspoons of Lemon Zest
2 teaspoons of Lemon Juice
1 Celery Stalk, finely chopped
1 Scallion, finely chopped
Pinch of Salt & Pepper
A dash of Worcestershire Sauce
1/2 teaspoon of Tabasco Sauce
Steps
Gently combine all the ingredients until just well-combined.
Serve chilled with some homemade Brown Bread.