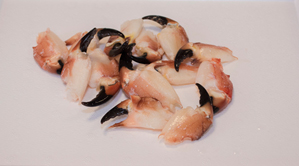 We won Bronze in Blas na hÉireann Irish Food awards in 2013 with this product.
It is ideal for use in a Starter or a Main Course.
Crab Claws with Spring Onion and Chilli Stir Fry
Ingredients
250gr Window to the Sea Crab Claws
1 Red Chilli, finely chopped
4 cloves of garlic finely chopped
Salt & Pepper
1 teaspoon of Ginger, peeled & grated
75gr sliced peeled ginger
2 teaspoons of Caster sugar
3 teaspoons Rice Wine Vinegar
1 teaspoon Sea Salt
250ml of Vegetable Oil
1 teaspoon of Chilli Paste
8 Finely chopped spring onions
4 tbsp Fish Sauce
1 handful Coriander Leaves
Steps
Place the Crab Claws onto a chopping board.
Season with salt & pepper to taste and top with a garnish of sliced spring onions and coriander leaves.
For the stir-fry sauce, blend the chilli, garlic and 75g of sliced ginger in a food processor until a rough paste is formed.
Add the rice wine vinegar, sugar and salt and blend until combined.
In a large wok, heat the vegetable oil over a medium heat.
Add the chilli paste and stir for 1-2 minutes.
Add the grated ginger and crab claws, fish sauce and spring onions.
Toss all the ingredients thoroughly, reduce the heat and place a lid on top.
Cook for 2-3 minutes making sure to shake the wok after each minute.